FBJSL and Memorial Hermann Sugar Land Hospital Present 2018 Sugar Plum Market Funds to Local Charities
Date Posted:  December 2018
The 2018 Sugar Plum Market, presented by the Fort Bend Junior Service League (FBJSL) and Memorial Hermann Sugar Land Hospital, is pleased to announce the proceeds and beneficiaries of another successful event.  Total proceeds from this year's Market were $335,000.00, a record-number, and were presented to local Fort Bend County charities on December 14th at a Check Presentation Party held at Memorial Hermann Sugar Land Hospital.
The following beneficiaries each received some of the event proceeds:  Camp Kesem Rice; Fort Bend County Women's Center; Sire, Houston's Therapeutic Equestrian Centers; The Arc of Fort Bend County; Boys and Girls Club of Greater Houston; Big Brothers Big Sisters; College Community Career; Fort Bend Children's Discovery Center; Fort Bend Rainbow Room; Catholic Charities; Texana Center; Gigi's Playhouse; Houston Museum of Natural Science – Sugar Land; East Fort Bend Human Needs Ministry; Abigails Place; Reigning Strength Therapeutic Horsemanship; Access Health; Lunches of Love; Hope for Three; Literacy Council; Parks Youth Ranch; Child Advocates of Fort Bend.
The "Oh, What Fun!" themed Market was a huge success with over 8,000 shoppers enjoying beautiful décor, a large raffle showcase, and more than 100 unique vendors.  "We are proud to announce this year's Market proceeds and want to thank our sponsors, volunteers, and Market patrons who play such an important role in our success," said FBJSL President Emily Calbert.  "Without you, we wouldn't be able to do what we love and support so many agencies in Fort Bend County!"  Since its inception in 2001, the Sugar Plum Market has raised more than $2,800,000 for Fort Bend County charities.
FBJSL is an organization of women committed to promoting volunteerism, to developing the potential of women and to improving the Fort Bend County community through the effective action and leadership of trained volunteers.  Its purpose is exclusively educational and charitable as well as providing an atmosphere of friendliness, goodwill and camaraderie for all members.  The League has contributed more than $3.4 million to various charities in Fort Bend County.  For more information on FBJSL, please visit www.fbjsl.com.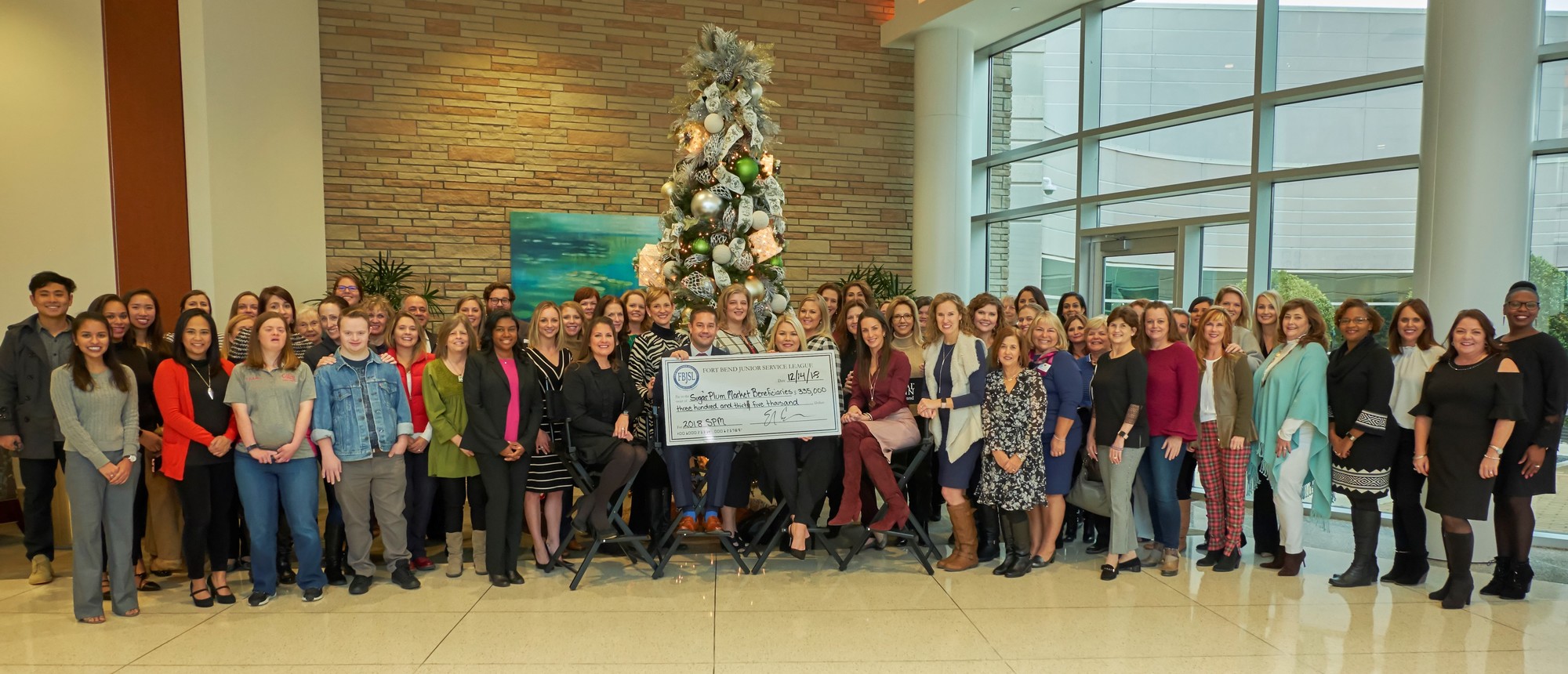 Photo:
Representatives of the organizations receiving proceeds from the 2018 Sugar Plum Market joined members of FBJSL and representatives of Memorial Hermann Sugar Land Hospital on December 14th to celebrate the Market's success.