Fort Bend Junior Service League and Memorial Hermann Sugar Land Announce Partnership for the 2021 Sugar Plum Market
July 2021
The Fort Bend Junior Service League (FBJSL) is pleased to announce the return of Memorial Hermann Sugar Land Hospital (MHSL) as Title Sponsor for their signature event, the Sugar Plum Market. This year marks a milestone for the Market which has raised over $3.3 million for worthy charitable organizations and scholarship programs.
"We are proud to re-commit our support as Title Sponsor of the Fort Bend Junior Service League's Sugar Plum Market and look forward to celebrating its 20th Anniversary this fall. We value our partnership and our humbled by our shared responsibility to serve our community," commented Malisha Patel, Senior Vice President and CEO of Memorial Hermann Sugar Land Hospital and Memorial Hermann Southwest Hospital.
FBJSL's 2021 Market will be held in-person this year at the Stafford Centre Performing Arts Theatre and Convention Center with an additional full day of shopping starting Thursday, November 4th and running through Saturday, November 6th. The event will kick off with a special Preview Night Celebration on Wednesday, November 3rd. Shoppers will be delighted to find more than 100 vendors from various merchandise categories including holiday gifts and décor, apparel and accessories, food, home interiors, and children's items.
FBJSL is grateful to the community for supporting their charitable efforts through the Market. In addition to Memorial Hermann Sugar Land, FBJSL is pleased to recognize other notable sponsors including: City of Stafford, Sterling McCall Toyota Fort Bend, Kendra Scott, Pamela Printing, absolutely! focus media, Amy & Gary Becker Foundation, Newmark Homes, KidzGrub, H-E-B, Trustmark National Bank, The Sansone Group at RE/MAX Fine Properties, Stewart Title, Johnson Development, Harris Machine Tools, Brandani's Restaurant & Wine Bar, Allen Boone Humphries Robinson LLP, Title Partners and PB&J Pavement Marking.
Please visit www.sugarplummarket.com for sponsorship and ticket information. Tickets will go on sale September 1st. For the latest news and updates, follow @sugarplummarket on Instagram and Facebook.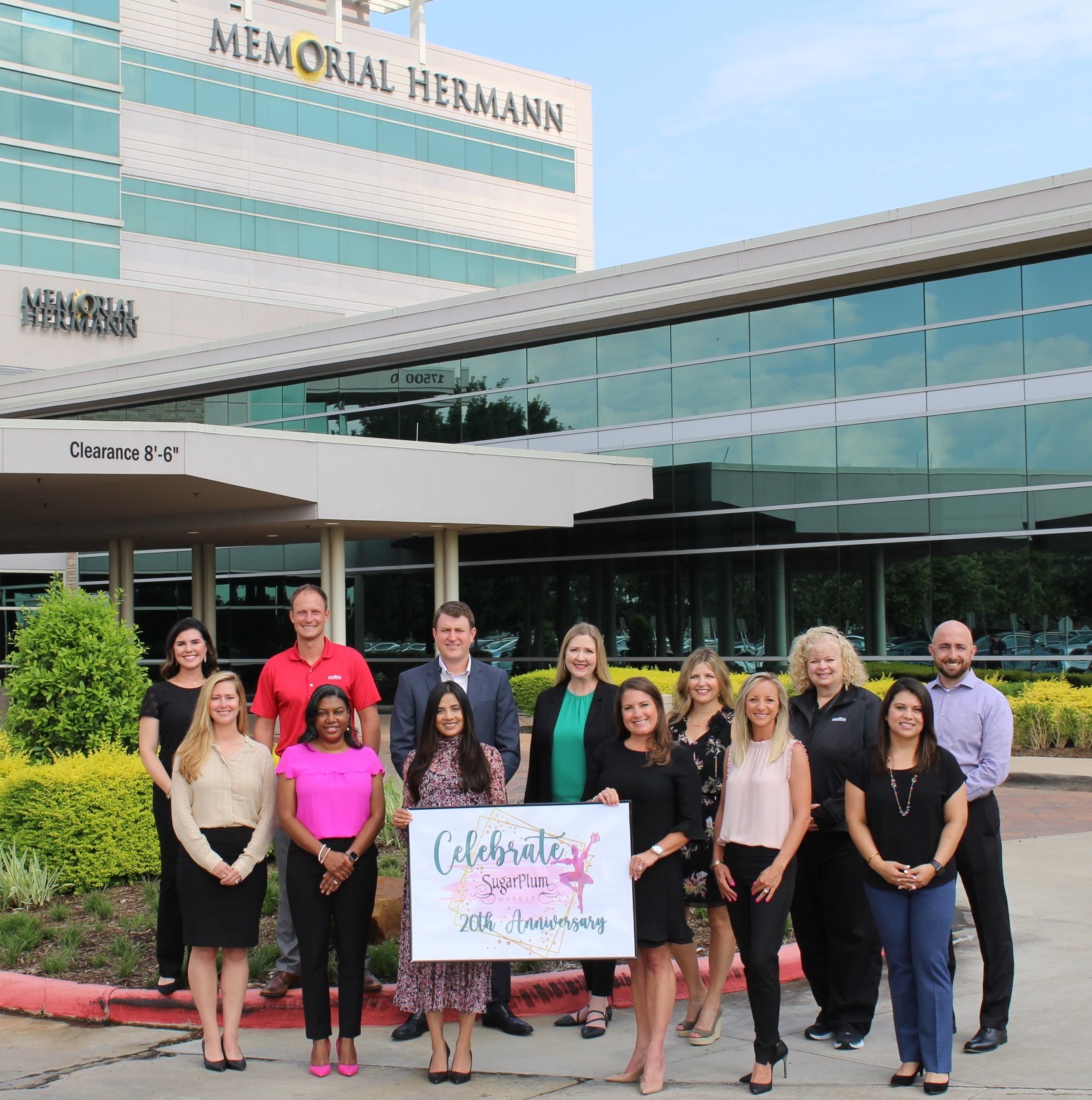 Photo:
Front Row (L to R): Co-Chair Cherie Lyne Bouterie, Co-Chair Theresa Shmerling, FBJSL President Heather Allen, MHSL CEO Malisha Patel, FBJSL Board Member Heather Brown, Co-Chair Emily Calbert and MHSL Marketing Specialist Karina Martinez
Back Row (L to R): MSHL Director of Marketing Gerrit von Wenckstern, MHSL Vice President of Operations Matt Kelly, Co-Chair Chelsi Oestreich, Co-Chair Brigit Engleman, MHSL Vice President & Chief Medical Officer Dr. Kris Poffinbarger, and MHSL Associate Vice President of Finance Robert "Chase" Ogden.