Welcome to the Sugar Plum Market!
Thank you for CELEBRATING our 20th Anniversary
Sugar Plum Market with us!!

(Pictured L to R: Co-chairs Chelsi Oestreich, Brigit Engleman, Leah Henley; Board Liaison Heather Brown; Cho-chairs Emily Calbert, Cherie Lyne Bouterie, Theresa Shmerling)
Can't wait to see you all again next year!
---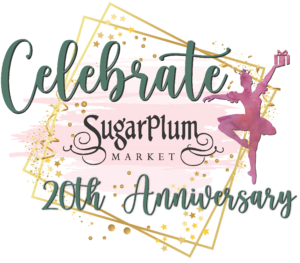 This year marks a milestone anniversary for the Market as we CELEBRATE 20 years of volunteering and fundraising directly impacting charitable organizations serving the Fort Bend community. Since its inception, the Market has raised over $3.3 million and has grown to become a treasured Fort Bend tradition.  
With the Market's increasing popularity and growing crowds over the last several years, we are excited to announce that we have extended the Market by an additional shopping day this year! The Market is in-person at the Stafford Centre Performing Arts Theatre and Convention Center November 4-6. A special Preview Night shopping event will commence the festivities on November 3!
The Sugar Plum Market features more than 100 vendors from across Texas with unique items for everyone on your gift list. The Market welcomes the addition of premiere vendors to its impressive portfolio.
Additionally, the success of the Market would not be possible without contributions from generous sponsors and donors! Visit our Sponsors page! 
View this post on Instagram