We need your support!
Since 2001, the Sugar Plum Market holiday shopping extravaganza has raised over $2.4 million in funding that has directly impacted our beloved local non-profit organizations.  Please help us continue this tradition of giving by becoming a sponsor.
The 18th annual Sugar Plum Market sponsorship packages will be available online soon.  Please see our 2017 sponsor card below for a general idea of our offerings.  If you are interested in becoming a sponsor, please contact sponsors@sugarplummarket.com.  We would love to talk to you!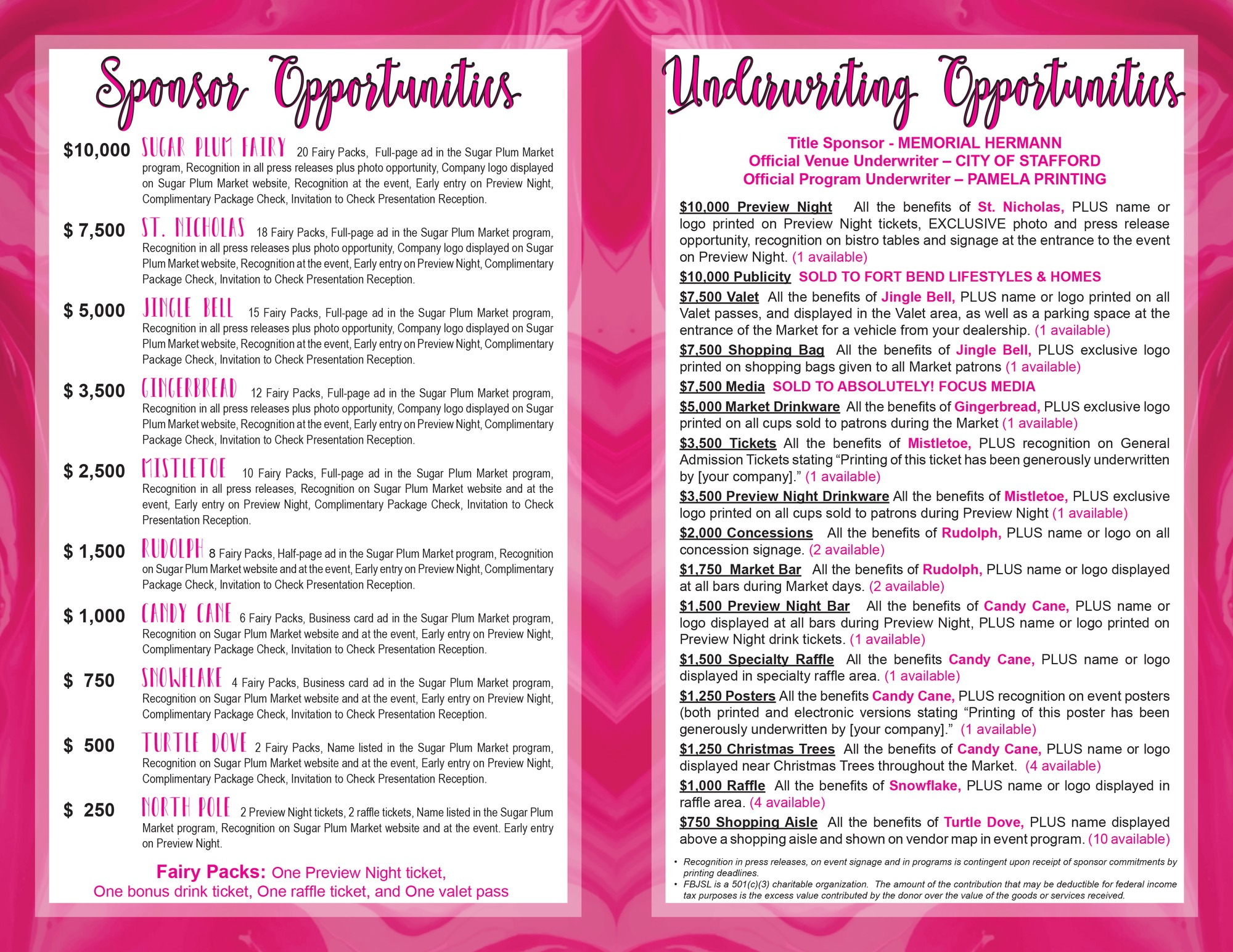 Download the 2017 SPM Sponsor Card
We appreciate the generosity of our 2017 Sugar Plum Market sponsors !!
Title
Memorial Hermann
Valet
Sterling McCall Nissan
Jingle Bell
Randall's
Gingerbread
Kendra Scott
Mistletoe
HEB
Concessions
FBJSL Board of Directors
Johanson and Fairless Lawyer with Laura and Todd Taylor
Market Bar
Harris Machine Tools, Inc.
Trustmark Bank
Janice Sanford
Rudolph
Allen Boone Humphries Robinson LLP
Consolidated Home Health
Fidelity Investments
Hunton Group
Specialty Raffle
Harris Construction
Preview Night Bar
Silt Solutions, Inc.
Posters
Sugar Land Town Square/ PCD Management
Raffle
Millis Development
Hoffman Insurance Group
Snowflake
Chris and Kathy Keene
Candy Cane
Stewart Title
Sally and Ed Lewis
Aisle
FBJSL Beneficiary Review Committee
Camp Family Minerals LLC- Kimberly and Clay Camp
Team Sansone- RE/MAX Fine Properties
Halford Orthodontics
FLOSS Sugar Land
Amegy Bank
Amegy Bank
Tate Moerer & King, LLP
Turtle Dove
Dickey Manufacturing
Fortiter Wealth Management
Kim and Stephen Perich
Medicus Alliance Clinical Research Org.
Pierce Built Homes
Stevan Verkin
Mitch and LeAnn Fane
Sherri and Daniel Ebarb
Sienna Plantation Animal Hospital
North Pole
Glory Hopkins and Libby King
Stallion Fence Company LLC
Cache Properties
Carl Moerer
Paul and Debra Furrh
Null Design Partners- Tracy Pipes and Diana Null
Jester Tax and Financial Services, LLC
Pam and Jeff Spencer
Marcie and David Lindquist
Megan Stubinski
Hogan Chiropractic
Kelli and Steve Metzenthin
Access Health
Old Republic Title
Petrosewicz Law Firm, P.C.
Gringo's Mexican Kitchen Rosenberg
Debbie and Phillip Bucker
Dana and Jason Clement
Fallon Moody
LearningRx Brain Training Center
Arleen and Lewis "Bud" Smith
Preng and Associates
Delores Hinkle
Media Underwriter
absolutely focus! Media
Publicity Underwriter
Fort Bend Lifestyles and Homes
Program Underwriter
Pamela Printing
Catering Underwriter
26 Daisies
Water Underwriter
Pisklak Orthodontics
Funds from prior Sugar Plum Market events have afforded many athletes the opportunity to compete in the Special Olympics.  "The Arc of Fort Bend appreciates the generous support that FBJSL gives to our Special Olympics program," said Laura LaVigne, Executive Director of The Arc of Fort Bend.  "You can see the determination and resulting joy in the eyes of all our athletes as they compete.  And, FBJSL helps make it possible!"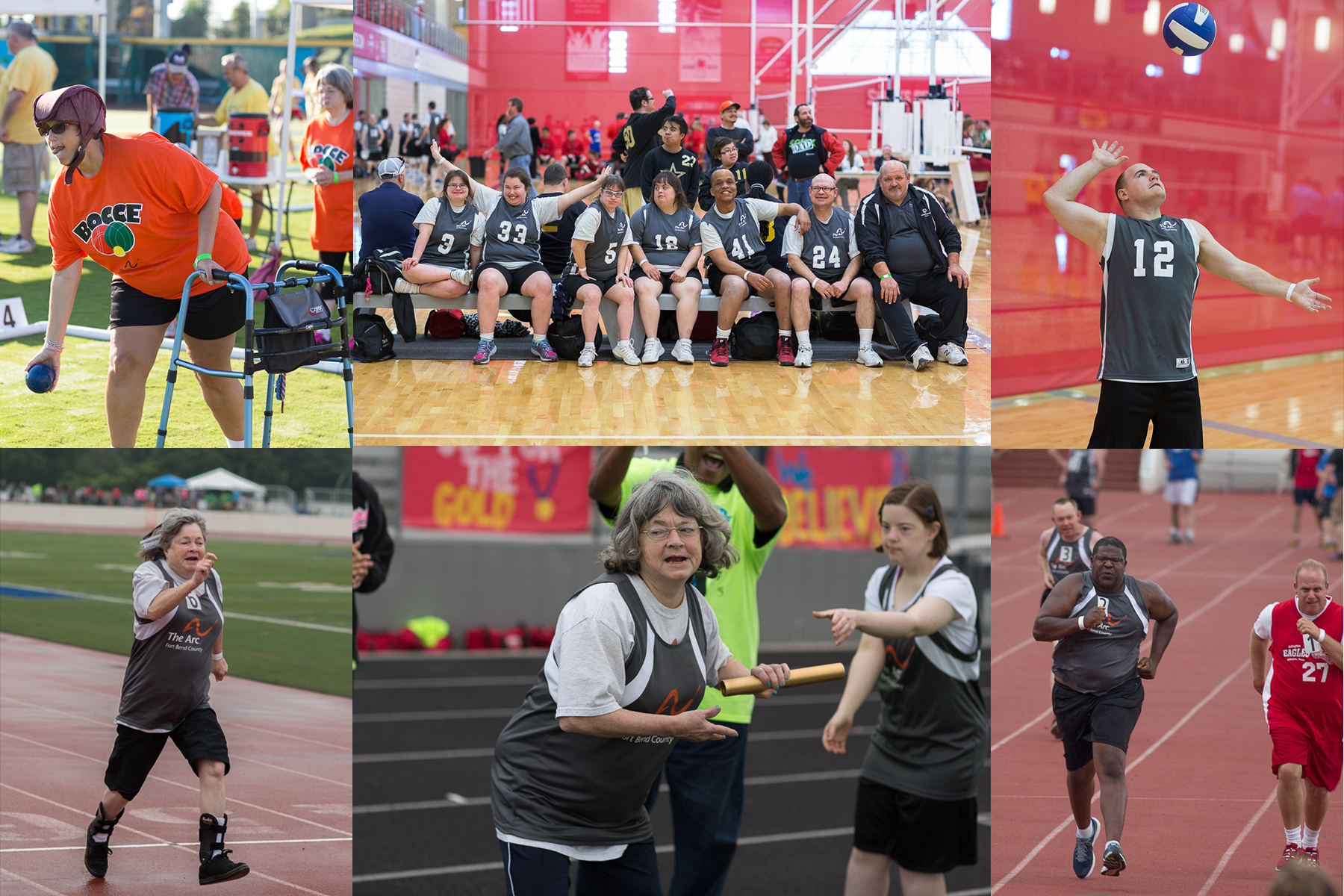 Thank you to Memorial Hermann for their 2017 Presenting Sponsorship
of Sugar Plum Market!!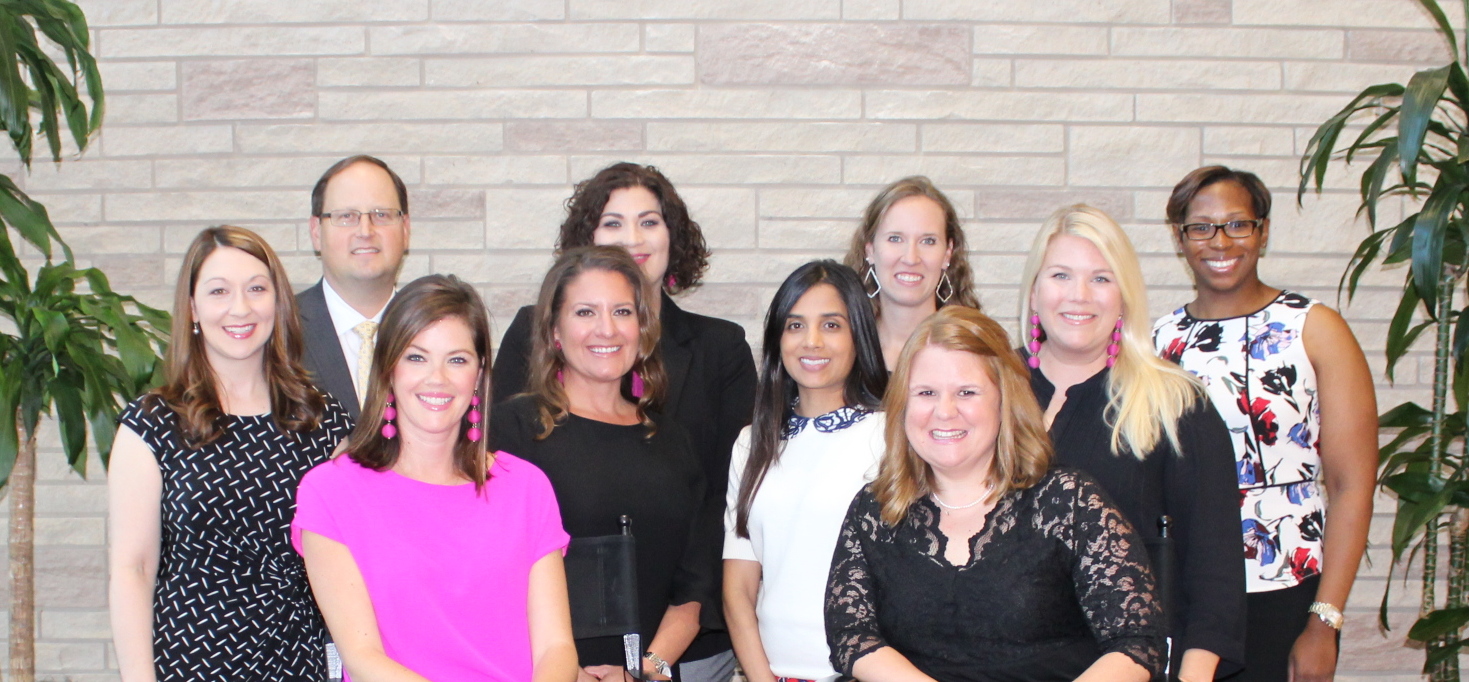 Presenting Sponsor
Venue Sponsor
Valet  Sponsor

SaveSave
SaveSave
SaveSave
SaveSave
SaveSave
SaveSave
SaveSave
SaveSave
SaveSave
SaveSave
SaveSave
SaveSave
SaveSave
SaveSave
SaveSave
SaveSave